January 30, 2006
Me a Ferrari??
Alrighty then....
I took the test and here is the outcome:
I'm a Ferrari 360 Modena!
You've got it all. Power, passion, precision, and style. You're sensuous, exotic, and temperamental. Sure, you're expensive and high-maintenance, but you're worth it.

Take the Which Sports Car Are You? quiz.
January 23, 2006
Guess what it is (made of)!
I have lots and lots cool news but yet to find time and write it here.Right now it won't matter much.Another blogger popped out a baby so most everyone is over there fussing over that for now.
So we'll do a bit of a guessing game for now.
10 points for the one that guesses what this is,or better....what its made of.
Note:
Direct employees,spouses,affiliates and shareholders of this here household are excluded from guessing.Well DUH!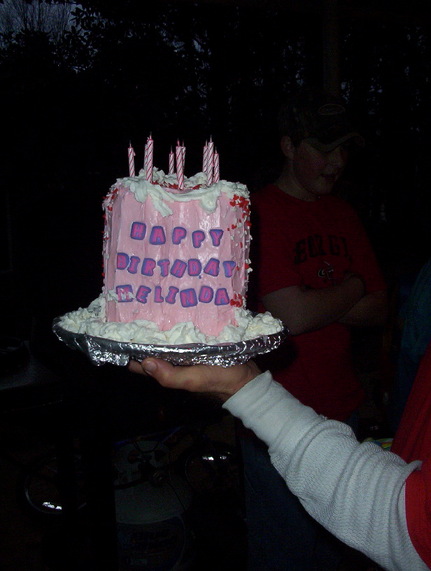 Update:
Looks like we have a (close) winner!Beth guessed it.Its 4 16 ounze cans of Ice House beer,covered in pink icing and cream.The idea came from a picture that goes arround called "redneck birthday cake" (just go Google it) and since our neighbor is a damn redneck,thats what she got.Jim made it.:-)
January 20, 2006
I just have nothing to post!
Sorry folks, but I am having a complete blank lately.....
Hopefully something "postable" will come up soon!